Enhancing Class X Students Proficiency in Biology using Role Play and Games
Keywords:
Role Play, Games, Academic performance, Interventions, Mean score
Abstract
his action research explored the use of role play and games to enhance the proficiency of biology of class X A students from one of the schools under Phuentsholing. Students of class X A were chosen from the school; one group of students were used as control group and another group were used as experimental group. Each intervention was used for two weeks and a pretest were conducted before and post-test were conducted at the end of each interventions. For the games, the mean marks during pre-test were 8.7 and post-test was 10.4 for control group; pre-test 9.9 and post-test 11.8 for experimental group. There is an increase in mean marks by 0.7. For the role play, the mean marks during the pre-test were 10.4 and post-test 11.1 for the control group; pre-test was 10.6 and post-test was 13.6 for the experimental group. The mean marks increased by 3. Through this study, both the interventions were found to be helpful in teaching of biology since both helped to increase in the mean marks during the post-test. Moreover, role play is found to be much better than the games since the increase in mean marks is more when biology is taught using role play.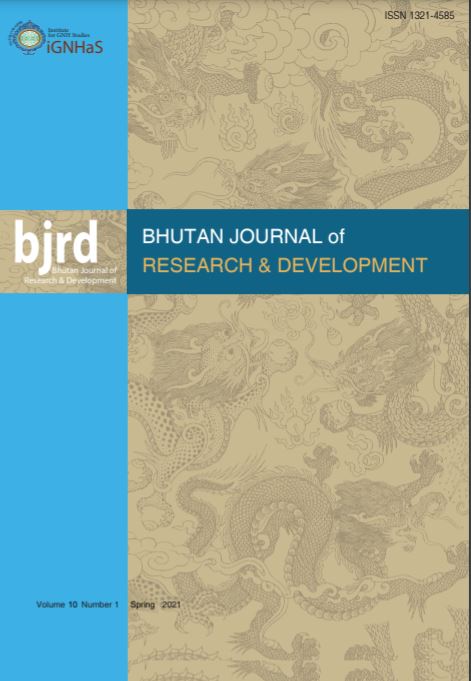 Downloads
How to Cite
Nidup, Y. ., Choden, K. ., Luitel, Y. P., & Gupta, R. . (2021). Enhancing Class X Students Proficiency in Biology using Role Play and Games. Bhutan Journal of Research and Development, 10(1). Retrieved from https://bjrd.rub.edu.bt/index.php/bjrd/article/view/90
License
All articles published in BJRD are registered under Creative Commons Attribution 4.0 International License unless otherwise mentioned. BJRD allows unrestricted use of articles in any medium, reproduction and distribution by providing adequate credit to the authors and the source of publication.