Teaching Grammar using Literary Texts: An Action Research Study with Class Eight students in Paro
Keywords:
ESL, Literary Texts, Grammar Instruction, Teaching and learning, grammar in context
Abstract
The school English curriculum framework in Bhutan mandates the teaching of grammar to be integrated with teaching of literary texts. This has become an issue as teachers find it difficult to integrate. A pre-survey using a questionnaire and a class test was administered to 76 Class Eight students (one student was absent) to examine their perceptions on using literary texts to learn grammar and test their grammar knowledge. Based on the findings of the pre-survey and the pre-test, this action research was designed to adapt and implement Ellis's (2002) practice and conscious-raising approaches to grammar teaching, Celce-Murcia and Olshtan's (2014) a discoursebased approach to teaching second language grammar and Larsen-Freeman's (2014) a three-dimensional grammar framework to effectively teach both content of the text as well as the grammar. After six months of intervention, a post-survey using the same questionnaire and a post-test (n=77) were conducted to explore if there were any differences in students' perceptions and test scores. In order to further validate students' quantitative responses, semi-structured interviews were conducted with students (n=6) and teachers (n=2). Findings showed that the intervention strategies have made an impact on students' understanding of both content of the literary texts and grammar. Recommendations for further improvement of teaching grammar in context and for future research are also provided.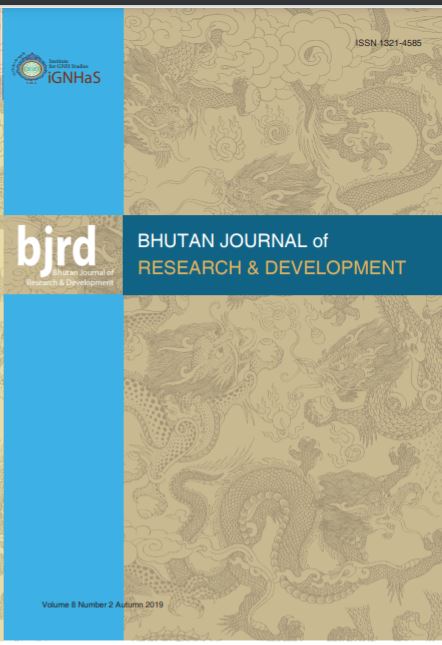 Downloads
How to Cite
Tshomo, T. ., Choden, U., Sherab, K. ., & Zangmo, P. . (2021). Teaching Grammar using Literary Texts: An Action Research Study with Class Eight students in Paro. Bhutan Journal of Research and Development, 8(2). Retrieved from https://bjrd.rub.edu.bt/index.php/bjrd/article/view/63
License
All articles published in BJRD are registered under Creative Commons Attribution 4.0 International License unless otherwise mentioned. BJRD allows unrestricted use of articles in any medium, reproduction and distribution by providing adequate credit to the authors and the source of publication.