A Qualitative Study of the Risk Factors Leading to Substance Use in Bhutanese Youth
Keywords:
Bhutan, Substance abuse & Dependence, Risk factors
Abstract
Substance abuse and dependence among the youth population in Bhutan is already a huge concern for the Bhutanese family system, society and the country as a whole. Youths, who accounts for 60% of the total population of Bhutan are considered the future leaders of the country (National Statistics Board [NSB], 2017). Therefore, there is an urgent need to identify the factors that lead youth to substance abuse and dependence in Bhutan. This study sought to explore an in-depth understanding of the risk factors that are associated with substance abuse and dependence among Bhutanese youth. Interview data were collected through semi-structured interviews from 28 participants adopting a qualitative research methodology. The study revealed that factors such as peer pressure, family environment and easy accessibility played an important role in drug use and addiction among the participants. Other factors such as curiosity and low self-esteem have also contributed to participant drug abuse. To the researchers' knowledge, the present study was the first qualitative study on this topic to be conducted in Bhutan.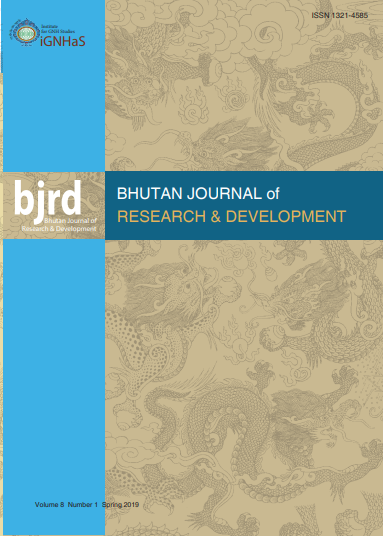 Downloads
How to Cite
Doma, D. ., & Wickramasekera I, I. (2021). A Qualitative Study of the Risk Factors Leading to Substance Use in Bhutanese Youth . Bhutan Journal of Research and Development, 8(1). Retrieved from https://bjrd.rub.edu.bt/index.php/bjrd/article/view/46
License
All articles published in BJRD are registered under Creative Commons Attribution 4.0 International License unless otherwise mentioned. BJRD allows unrestricted use of articles in any medium, reproduction and distribution by providing adequate credit to the authors and the source of publication.