Efficacy of City Bus Service in Thimphu Thromde Service and Service Need Assessment
Keywords:
Service Quality, Public Transportation, SERVQUAL
Abstract
With the growing number of population and vehicles, traffic congestion is common worldwide. And a good public transport system is a necessity to curb the issue. Thimphu Thromde, the most populous city in Bhutan is currently witnessing problems of public transportation and its related consequences. Hence service quality of the city buses and service need assessment has been carried out in this study using the model of service quality (SERVQUAL). A sample of 380 respondents in Thimphu Thromde were surveyed through randomly distributed questionnaire. The data for this study was analyzed using the statistical package for social sciences version 21. The study found that there is a significant difference between perceived and expected services from the city bus system, also the quality of service is low and unsatisfactory to the public. Reliability (-1.28) has the highest negative gap followed by Tangibles (-1.15) and Empathy(-1.03 each) of the system as per the SERVQUAL instrument. Specifically, the city bus timing, routes/lack of connectivity, lack of adequate resource and capacity of parking are some of the major problems. Thus, there is a need to increase routes and connectivity of the buses, construct better city bus stand and parking, and construct enough bus stop points for better and prompt services to the people. The responses in the need assessment also indicated that 92 percent of the respondents would avail the service if it met their expectation in future. And the people are aware of the fact that public transport system is cheap, efficient and economically satisfying.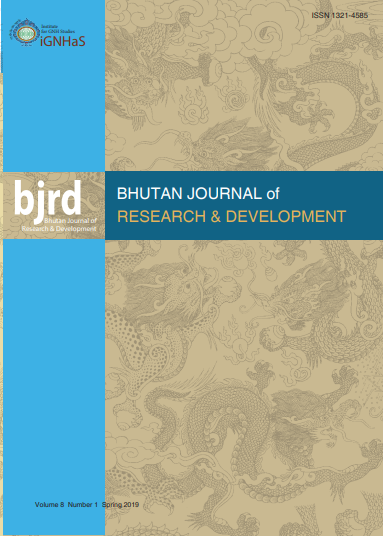 Downloads
How to Cite
Waiba, P. S., & Chophel , T. . (2019). Efficacy of City Bus Service in Thimphu Thromde Service and Service Need Assessment. Bhutan Journal of Research and Development, 8(1), 34–46. Retrieved from https://bjrd.rub.edu.bt/index.php/bjrd/article/view/41
License
All articles published in BJRD are registered under Creative Commons Attribution 4.0 International License unless otherwise mentioned. BJRD allows unrestricted use of articles in any medium, reproduction and distribution by providing adequate credit to the authors and the source of publication.