Cause and Effect: A Study on the Concept of Karma in the Buddhist Tradition
Keywords:
Karma, Cause and effect, the Buddhist tradition, doctrine, Buddhist ethics, existence
Abstract
The most fundamental aspect of the Buddhist tradition is the concept of Karma. Karma is the basis of Buddhist ethics and principles that maintain that the entire universe is bound to a similar law. Our actions will decide what will happen to us, for we caused it. The current state of our existence is with our past Karma, and the present action will determine our future condition of existence. Karma is a special instance of cause and effect, according to which all our actions of body, speech, and mind are causes and all our experiences are their effects. The Law of Karma explains why each individual has a unique mental disposition, a unique physical appearance, and unique experiences. These are the various effects of the countless actions that each individual has performed in the past. We cannot find any two people who have created the same history of actions throughout their past lives. So we cannot find two people with identical states of mind, identical experiences, and identical physical appearances. Therefore, each person has different individual Karma, and each individual has to face the action of one's own Karma. Thus, the significance of this study is to determine the true concept of karma and its implication beyond our life in the Buddhist tradition.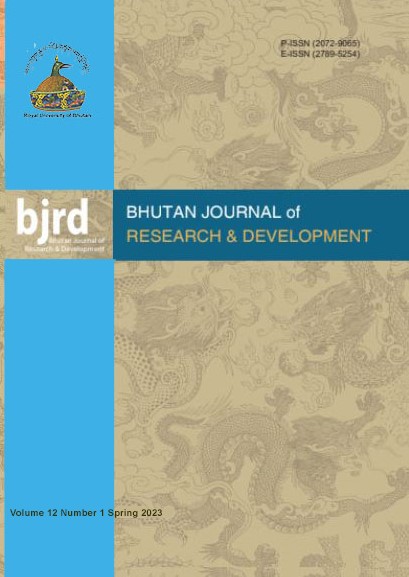 Downloads
How to Cite
Phuntsho, D. . (2023). Cause and Effect: A Study on the Concept of Karma in the Buddhist Tradition. Bhutan Journal of Research and Development, 12(1), 32–37. https://doi.org/10.17102/bjrd.rub.12.1.0033
License
Copyright (c) 2023 Dorji Phuntsho
This work is licensed under a Creative Commons Attribution 4.0 International License.
All articles published in BJRD are registered under Creative Commons Attribution 4.0 International License unless otherwise mentioned. BJRD allows unrestricted use of articles in any medium, reproduction and distribution by providing adequate credit to the authors and the source of publication.